Majestic Townhomes Ratings and Reviews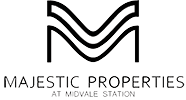 29 W Center Street

,

Midvale

,

UT

,

84047




(385) 445-1998




https://www.majestictownhomes.com

See what other people are saying about our apartments located in Midvale! At Majestic Townhomes Luxury Living, we value all our residents voices, and canā€™t wait for you to see our luxury apartments for yourself. If you have any comments or suggestions, feel free to let us know! We appreciate the feedback, good or bad.
---
M
Makenna Sadler
10/29/2020
kayla helped my boyfriend and i move in quickly and easily! she responded promptly and helped us with everything we needed. we love living in this area and we love our townhome! thanks for all your help kayla!!!
Kayla the property manager was a great person to talk to, she was very professional and helped out alot.
B
brian higgins
9/11/2020
I went to an open house not too long ago and although I didnā??t get the lease I was very impressed with Kayla. She was kind, attentive and was went above and beyond.
Awesome location, extremely well maintained, highly recommended for families and single family...
Went to this location to do a walkthrough with my brother and his girlfriend! Itā??s a beautiful, centralized location! We were greeted by the property manager Kayla, she was very open about the rent, fees etc. She listened to their wants and needs. She was very caring! The property is beautiful, well kept! The inside of the townhouse that we were shown was beautiful, spacious and is a very updated house! My brother and girlfriend did end up signing a lease and have moved it. I would recommend this property.
This place was wonderful!
M
marissa Kennelly
9/5/2020
My family was new the the area and so lost on where to start looking for a nice and safe place to live. Kayla worked with me to find the best fit for my family! She was very professional and very responsive to all my questions! The best part is how quiet the location is even being next to the tracts! You're in good hands with Kayla! Let her help make your move less stressful!
S
Sonia Williams
9/5/2020
Highly recommend working with the property manager Kayla. Sheā??s amazing and answered all my questions. My townhouse is perfect and I love living here!
Took a tour of these townhomes the location is great, the service I received from Kayla was even better! She is very knowledgeable and was very nice!
M
Martin Marsing
9/3/2020
I went to an open house and worked with the property manager Kayla. Iā??ve never dealt with a better property manager. She was very professional and addressed all my questions. I unfortunately had to pull my application due to a new job offering. Whoever moves in or lives there is dealing with an A+ property manager in Kayla.
C
Cameron Barber
9/2/2020
My property manger Kayla is amazing! The townhomes are amazing and located around so many different stores and businesses. We havenā??t been here long and we already wanna stay longer!
Checked out these townhomes recently. Awesome location and super friendly property manager! The lightrail station is right outside your door, so commuting to downtown is extremely easy if you don't want to worry about driving. I highly recommend this place.
S
Shea Arellano
12/17/2019
I love living here. Everything is beautiful. The location is perfect especially being right by a TRAX. The management is easy to work with. Property manager Shay is so kind and helpful. Sheā??s made living here easier for me and my family.
M
Madison Tagge
12/17/2019
We moved in May of 2019 and have loved the space ever since. Our new property manager Shaylee is a doll, and we're excited to work with her in the future.
M
Madison Smith
12/17/2019
We moved in May of 2019 and have loved the space ever since. Our new property manager Shaylee is a doll, and we're excited to work with her in the future.
E
Eleventh King
12/17/2019
Shaylee is so welcoming and kind. She is precise and honest.
B
Bill Knowlton
10/7/2019
The Midvale Station Townhouse apartments are constructed with the highest-quality durable materials. The project includes natural stone, glass, well detailed and constructed metal panel, wood veneer, with accentuating lighting. The units have multiple large windows, abundant natural day lighting, and fantastic urban exterior views. All windows are built and installed with the highest efficiency for comfort, functionality, and aesthetics. Additionally, each unit is built with 9-foot ceilings, modern Energy Star rated appliances, central HVAC, individually controlled systems, with a 2-car garage. Each unit has high-quality finishes such as hardwood floors, granite countertops, stainless steel appliances, a balcony/patio and in-unit washer/dryers. Continually maintained landscaping and exterior, green gathering spaces.
Great location by the Trax Station and good quality living spaces.
C
Casey Knowlton
2/16/2019
Incredible property with beautiful interiors. Very close to transportation makes for easy access to the U or downtown.
Itā??s been nice to see this corner cleaned up. Fresh new look and great place to live. Close access to Trax, proximity to I-15 and state street.
A great new fixture in Midvale. They look great and are in a great location.
S
Steve Liechty
2/15/2019
Great location and great management.
B
Blair Jackson
2/15/2019
This is a great place! Easy access and nice facilities.
Great location AND construction. This fits perfectly into the surrounding community. Such a convenience to be located so close to many great services and amenities.
B
Brad Boardman
2/15/2019
I've driven past these townhomes many times and have watched them being built this past year. They finally opened and I was able to get a tour and walk through them. They are amazing. Big, spacious, nice finishes, great location. If I didn't already have a place to live, I'd definitely be here! Good work to the team that built these.